EV 100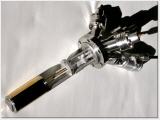 The OmniVac EV 100 Single Pocket Evaporator is a multi-purpose tool for controlled evaporation of a broad range of materials.
Equipped with thermal shielding as well as a shutter (manual or automatic), the EV 100 can be used either as an effusion or a Knudsen cell. Its overall length is variable, meaning that together with the simple alignment of the evaporator, the requirements of specific chamber designs can be easily met. Temperature is measured through spring-loaded thermocouples.
The PS-EV 100 power supply controls the heating current and temperature in a closed loop system using an Eurotherm 2416 PID controller.
EV 100 Single Pocket Evaporator
| | |
| --- | --- |
| Heater | Ta-wire (indirect heating) |
| Thermocouple | Type C |
| Operating range | 500 – 1800 K |
| Max. outgassing temperature | 1900 K |
| Temperature stability | +/- 0.1 K |
| Mounting flanche | DN 40 CF |
| Power consumption | max. 300 W |
| Working distance | 100 – 150 mm |
| Crucible materials | Al2O3, Graphite, BN, refractory metals |
| Crucible volume | 6 cm⊃3; |
PS-EV 100 Power Supply
| | |
| --- | --- |
| Temperature regulation | Eurotherm 2416 |
| Interfaces | RS 485 |
| Display | Filament voltage, filament current, temperature |
| Dimensions (W x H x D) | 19'' x 133 mm x 445 mm |
Features:
500 – 1800 K
thermic shielding
different crucible materials
effusion and knudsen cell
easy alignment

Related Products:
EV 200 Single Pocket Evaporator, crucible volume 10 cm³
EV 300 Four Pocket Evaporator
QMB 100 Quartz Microbalance